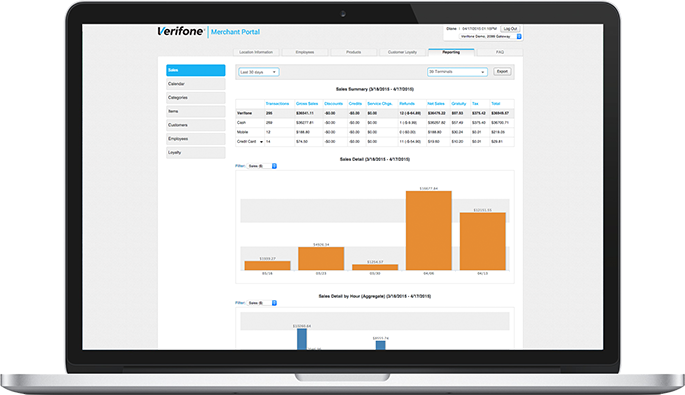 See What's Selling
Identify your most popular and profitable products at a glance, or dive deep into your sales data
Track Employee Performance
Manage individual employees by clocking their hours and tracking their sales
Manage Your Menu
Easily create and modify your menu from anywhere and adjust prices with modifiers and specials
Cloud-Based POS
Being "cloud-based" means all of your point of sale data is served remotely from the Internet instead of being stored locally with the system.
Updates and revisions to traditional POS systems require changing each system locally. Using Verifone Cloud POS allows you to remotely:
Accept orders
Edit your menu
Check Sales
Modify business information

The Android Advantage
Verifone Cloud POS' software runs on the Android operating system, not iOS, which differentiates us from most other tablet-based POS solutions. This enables us to deliver a more secure and reliable merchant experience than an iPad POS system can provide. All of the features below are only possible with Android.
Automatic Updates
Your software stays up to date automatically so you never have to manually update it
Remote Troubleshooting
Android allows us to remotely diagnose and resolve issues so you don't have to
Proactive Monitoring
We remotely monitor the statuses of your tablet and peripherals, and will immediately call you when we detect an issue.
POS Locking
You can keep your tablet locked in point of sale mode, to ensure the system remains secure.
App Integrations
We can remotely install third party apps such as DocuSign that you may need to run your business.
Flexibility
Android allows for a variety of hardware and software integrations to customize your system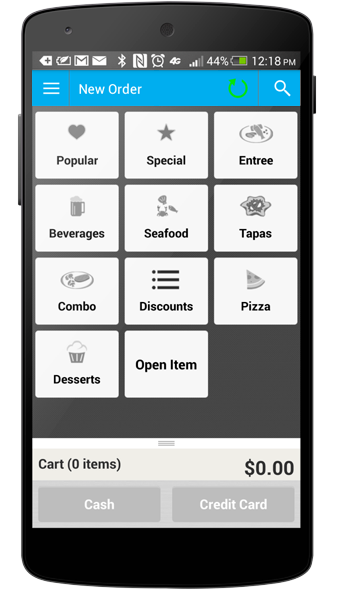 Mobile Point of Sale (mPOS)
Verifone Cloud POS' mPOS has all the power of our tablet POS in your smartphone and extends beyond traditional brick and mortar with line-busting, delivery, and special event solutions.
An entire POS on a mobile handheld device, to complete transactions away from the point of sale
Complete transactions on the floor or in line for faster throughput  and improved customer service
Syncs with your tablet or other mPOS devices for menu, pricing, and sales information
mPOS sales data on any device or in the cloud
Modernize the sales experience by offering text and email receipts,  or connect via Bluetooth to a wireless printer
Connect to the cloud via Wifi, or upgrade to a 4G data plan
Customer Loyalty Program
Your customer loyalty program is built into each POS system, so you can start connecting with customers as soon as you're up and running.
Features include:
Reward loyal customers with special offers such as "10% off on 10th visit"
Send messages to customers to encourage them to visit
Send special deals and discounts to groups or individuals
Track customer purchases and behavior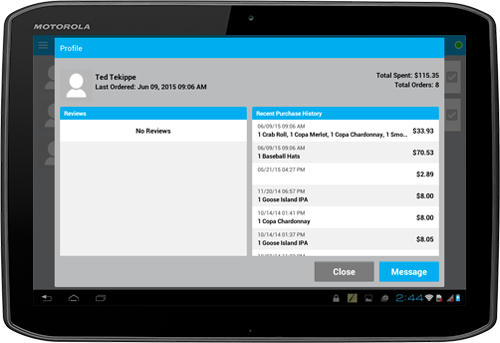 Free Consumer App
Soon, Verifone Cloud POS will allows customers to discover and order from participating merchants using the Verifone Cloud POS mobile app.
Get Discovered
Broadcast your business to potential customers on iOS and Android smartphones
Reward Loyalty
Send your customers promotions and discounts to increase traffic and inspire loyalty
Speed Up Lines
Save time for everyone by allowing customers to order and pay before they even walk in the door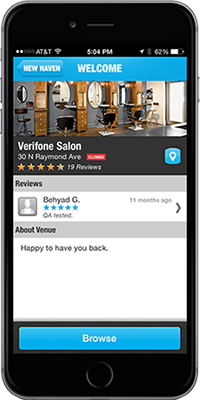 POS Hardware
Learn about our hardware and peripheral options.
POS Software
Learn about the great features offered by Verifone Cloud POS.
Pricing Details
See prices, and browse our most popular setups.
See something we offer and want to know more?
Contact us today to get your business growing!